How to Make Dandelion Taste Good
Dandelion greens are a hub of nutrients: I'm talking high levels of calcium, Vitamins C and B6, riboflavin, and iron. In theory, dandelion greens are the perfect snack, but I beseech you to eat them plain and raw – they're a little too bitter and earthy for most palates.
If you agree, then you've come to the right place, because I've gathered together some of my favorite recipes that not only include dandelion greens, but make them so good that you'll start to crave them:
Kale and Dandelion Salad with Olive Oil and Cranberries
Servings: 1
Ingredients:
A handful of kale and dandelion greens
Dried cranberries, 2 tbsp
Cherry tomatoes, ½ cup
Snap peas, ¼ cup
Olive oil, 1 tbsp
Himalayan salt, pinch
Toss all ingredients together and enjoy!
Dandelion Greens Omelet, Sprinkled with Sautéed Mushrooms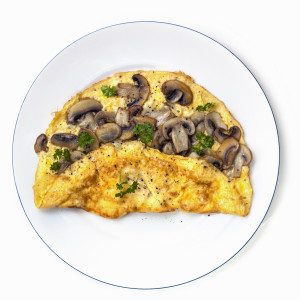 Servings: 1
Ingredients:
Half a cup of dandelion greens
Two eggs
Sliced mushrooms
Butter, 1 tsp
Minced garlic, salt, and pepper (to taste)
Water, 2 tbsp
Beat eggs, water, and seasoning until blended.  Pour blended eggs on a heated, buttered pan. Gently stir, until the eggs have taken a solid form. Add in mushrooms and greens, and fold over half the eggs so that the mushrooms and greens are covered. Turn off flame, and enjoy!
Grilled Cheese with Dandelion Greens and Peppers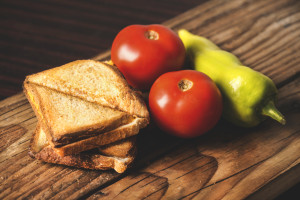 Servings: 1
Ingredients:
2 slices 100% whole wheat bread
2 slices American cheese
1 sliced bell pepper
1 quarter cup dandelion greens
Butter, 2 tbsp
On a warmed frying pan, let butter simmer for a few seconds. Place on the bread slices, and flip after 30 seconds. Add one slice of cheese, pepper, and greens to one slice. Top off with the other slice of cheese, and the other bread slice. Flip sandwich over, and keep over heat until cheese is melted.◾
If those recipes don't change your mind about dandelion greens, then nothing will (save covering them in a pound of sugar – which, needless to say, I don't recommend).
Let me know your favorite recipe in the comments below! Happy eating, and happy #NutritionFridays, everyone!